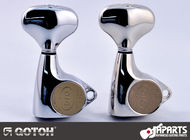 You've got a classic guitar, or maybe a re-issue. You'd like to upgrade to Gotohs. But how can a classic guitar look authentic with chrome hardware? Where's the groovy vintage vibe? Where's the mojo? What you really want is nickel.
The difference between chrome and nickel is slight enough that many people can't even tell. You're not one of those people, are you? You know what you want and you won't settle for anything less. But since Gotoh doesn't make SG Series tuners in nickel, you have been settling for less. Until now.
You've spoken. We listened. Gotoh SG tuners in nickel.
NOTE: Machine heads in this exclusive finish cannot be purchased with custom options like H.A.P., Magnum Lock, or alternate buttons. What you see here is what you can get.