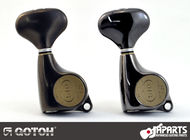 Previously only available on Gotoh's high-end classical guitar tuners, you can now buy limited edition SG510 models in Satin Cosmo Black exclusively from Japarts!
The satin effect is achieved by use of Gotoh's special lubrication technology. When combined with the finish it increases durability through its resistance to oils and moisture as well as creating a unique smooth, non-shiny surface. This is the same finish type (called X-Finish) as their popular XG finish, known as "antique gold".
NOTE: Machine heads in this exclusive finish cannot be purchased with custom options like H.A.P., Magnum Lock, or alternate buttons. What you see here is what you can get.